Managing Account Features¶
The Account Features tab provides a self-service interface for you to enable or disable certain Qubole features for your account before Qubole provides them through Gradual rollout.
Navigate to Control Panel > Account Features tab. On the Account Features page, you can see the list of features, feature description, last status, and roll-out options.
Note
To enable or disable account features, you must have the account update permission. For more information on managing roles and permissions, see Managing Roles.
The following section explains the different options available on the Account Features UI.
Feature Name¶
The Feature Name column lists the names and short descriptions of the features. To know more about any feature, click the respective feature name.
Last Status¶
The Last Status column displays the date and time of the previous change and the email address of the user who made the previous change. If Qubole does, it displays Qubole instead of the email address of the last user.
Rollout¶
This is a toggle button to enable or disable the respective feature for your account.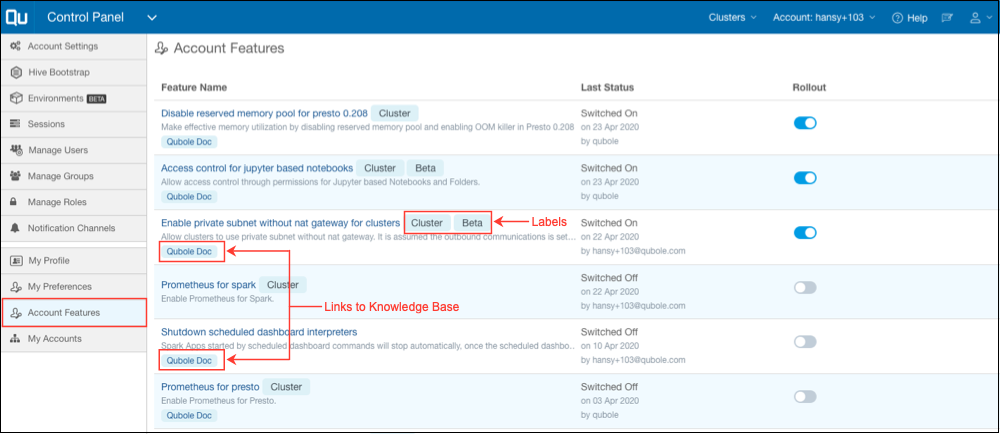 Labels¶
Beta¶
This label indicates that the respective feature is in Beta and appropriate for limited production use on the accounts before it becomes generally available.
Note
The Gradual rollout features are excluded from the Account Features page. After a feature is enabled by Qubole for all the accounts, you can no longer enable or disable that feature on the Account Features page.
Cluster¶
This label indicates that the respective feature may require cluster restart for any change to take effect.