Governing a Cluster on QDS¶
QDS has introduced a new cluster console providing granular visibility, enhanced governance, and ease of use. It supports governing and administering a cluster's activity and tracking the snapshot of its modified configuration on the Clusters UI page.
To track and govern a specific cluster's activity, navigate to the Clusters page and click the cluster from the list that is displayed. Clicking a specific cluster displays its Overview page, which shows these details:
Last Instance Status: It displays a snapshot of the last instance status. Click View Details for more information. Tracking Cluster Instances describes the cluster's instances.
Resources: It provides a list of resources available. Resources are only available for a running cluster.
Current Composition: It displays a snapshot of the cluster composition. Click View Details for more information.
Cluster Configuration: It provides a subset of the cluster configuration. Click VIEW ALL to see the complete configuration. Click Edit to modify the configuration. Tracking the History of Changes in Cluster Settings describes how to track the modified cluster settings.
Activity: It is a list of events that have occurred on the cluster, which are available at the cluster level and the cluster instance level.
Cluster Node Bootstrap: It provides a file path and a snapshot view of the bootstrap. Click Edit to add a bootstrap script.
Cluster Permissions: It displays the list of permissions set on the cluster.
The Overview page is illustrated in this example.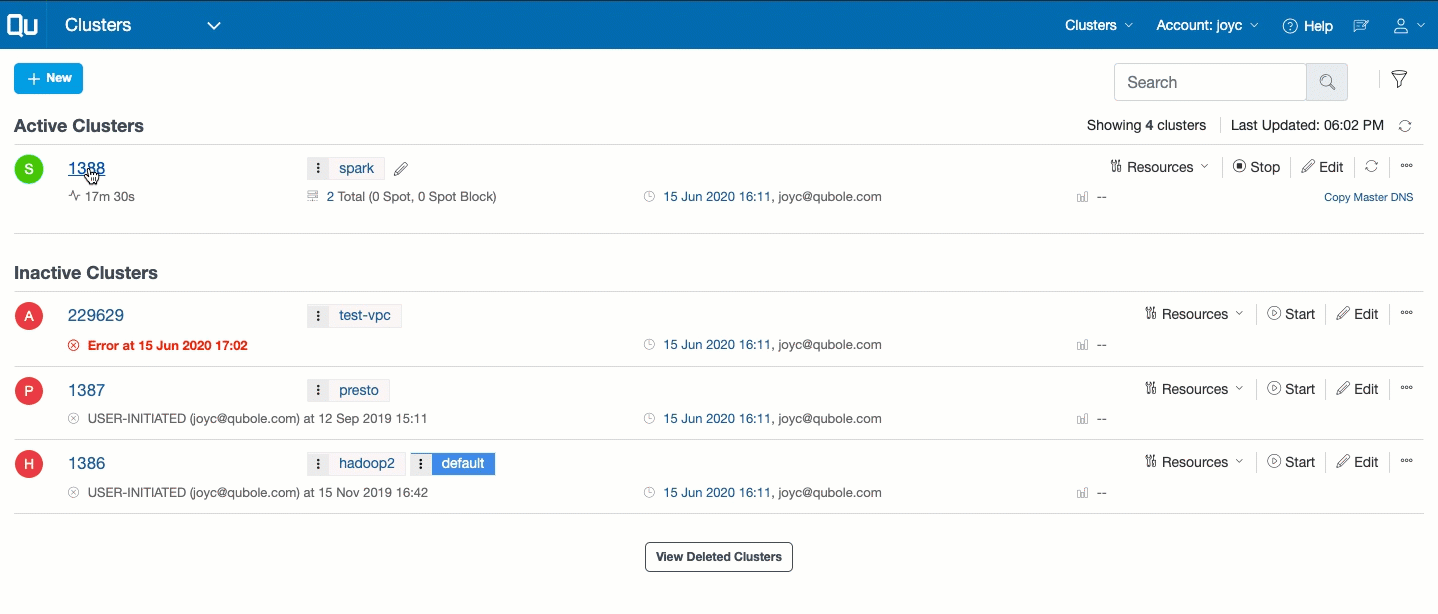 A cluster dashboard is a collection ot tile cards that displays all the important information about the cluster. The tile cards can be customized by dragging and repositioning them. You can decide what information has the most significance and customize the dashboard accordingly.